The poncho is DONE!!!!! I got the last pattern repeats knit this afternoon while the boys were actually playing nicely together, and then did the bind-off and weaving in of ends before dinner. Woo hoo!!
So, the specifics:
The Pattern:
Artyarns Multidirectional Poncho (P53)
The Yarn:
Artyarns Supermerino in 108
(note: the poncho pictured on the patterns page IS in 108, you can see that my 108 is very, very different from those colors - I was expecting a much lighter yarn. This is pretty, but way darker than I was expecting.)
The needles: Knitpicks Options in size 9 with various length cords.
New skills: 3-needle bind-off.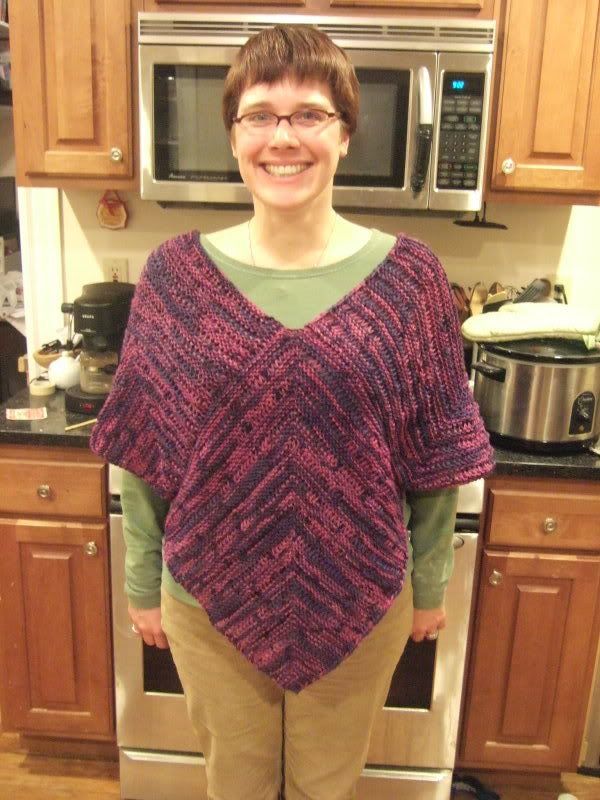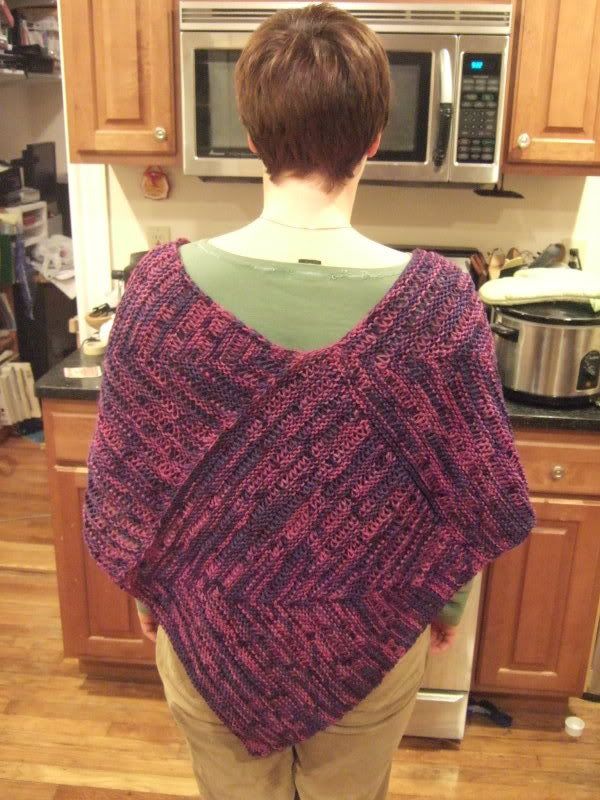 I don't know that I'm cut out to do big projects like this. It took a long time, and I got so bored towards the end. It's not a hard knit at all, but it's not mindless either. There are definite errors in this execution but somehow it all ended up okay. Now I am really excited to get some warmer weather so I can wear it! It may also be my "keep me warm at home" thing too (since for some reason we don't seem to heat our house). I am so thrilled to have this DONE! The one issue I've got is that I measured the initial front diamond on their recommendation, and it's a bit too big, so I think it's going to have a slipping issue. Ah well, live and learn. Honestly, I don't think I'd knit another poncho (crochet, maybe).
And my brilliant idea. I encountered a family today in which the very young son has cancer, and per the grandmom, it doesn't look good. This made me so sad (of course), and so grateful for the health of my own children. I was thinking about what sort of knitting for donation might be appropriate for kids with cancer, and thought about knitting toys for chemo patients that could be handed out. Then I thought "when do you have time to do this?" And I realized exactly what I need:
a corporate sponsor!
I need a company that wants to do some sort of charitable giving. They'd buy my yarn and pay me something for my time, and I'd commit to some number of items for donation. They'd get credit for it in some way, I'd get paid to knit, and little ones would get cute toys to give them some small measure of comfort. How awesome would that be?? I think it's a great idea.
Now...on to the important questions. Why are we here? What is the meaning in life? What the heck am I going to knit next? NICU hats are high on my list right now, plus another baby blanket and SOCKS SOCKS SOCKS! Let the fun begin!